Say Hi Ruti!
Ruti is a text-message based bike route planning tool. You text Ruti, provide your start and end locations for the ride you want to take, and Ruti will text back with directions and a map. Areas of higher "stress" along the route are noted in red; you can walk your bike on the sidewalks marked in orange. It's that simple.

Ruti Knows Every Route So You Don't Have To
Thanks to the DVRPC's Bicycle LTS and Connectivity Analysis, Ruti knows the level of traffic stress for every street segment in the region. And like a helpful friend who can get you there easily, it will find the least stressful routes for you.
Ride for Whatever Reason
🚲 🛒 🤝🖥️ ☕ 🍕 🍣
635
people are using Ruti and have logged
950
trips to run errands, bike to work, meet friends or simply ride a new route.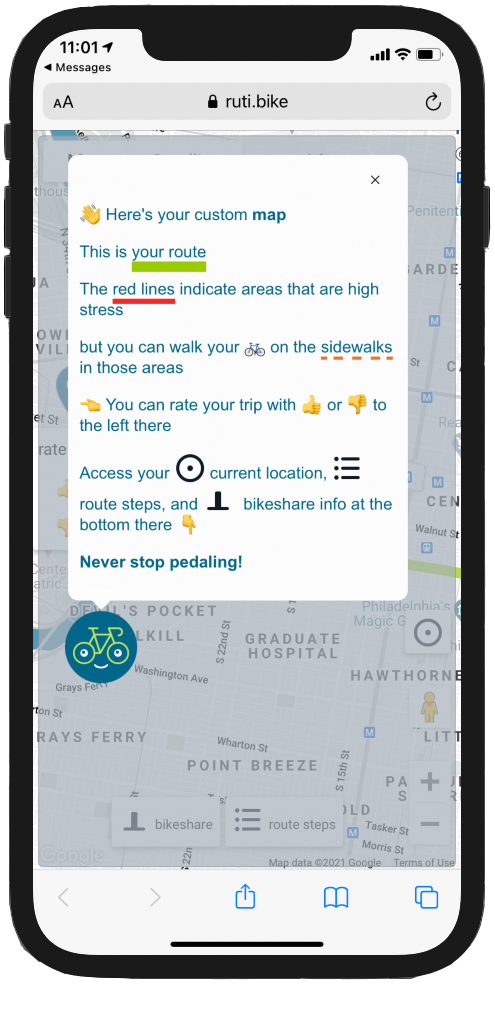 Make Ruti Better. Rate Your Route.
👍
Ruti gives you the opportunity to rate the route. The feedback you provide helps Ruti do better next time.